22 Jul

July 2022 Newsletter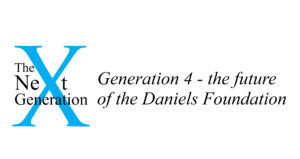 July 2022 Newsletter
Welcome to the July 2022 edition of the Daniels Foundation Newsletter. In this issue, we explore the following topics. Click on the links to read the articles!
Investing and Grantmaking in a Down Market! If you have been paying attention recently, you will know the 2022 has had a rocky start in the financial markets…  Click here to read more…
Clarence White Daniels! Clarence White Daniels was born in Worcester, Massachusetts on May 12, 1884, and died on January 8, 1966…  Click here to read more…
Family Photos! One of the goals of the Communications Committee is to encourage connection among the extended members of the Daniels family… Click here to read more…
Mental Health Data! As you know, the Daniels Foundation has been working with girls, age 10-14, for the past 15 years… Click here to read more…
Investing and Grantmaking in a Down Market
If you have been paying attention recently, you will know the 2022 has had a rocky start in the financial markets. The foundation has an investment portfolio subject to the market fluctuations. The spending rule is at least 5% of the overall value (aka the corpus) average annually, so a smaller portfolio balance means a smaller required amount. Historically, the Daniels Foundation has not reduced the grants sent out because of a falling market cycle.
For many years, the portfolio was invested and managed by a small firm. As we learned of their succession plan, we took the opportunity to interview other firms. There were many highly qualified candidates, and we were pleased to hire the Wetzel Group for our new portfolio managers in March of 2020. If you recall, March of 2020 had a 35% drop in the stock market, and we were all "staying safe at home." This brave group met us and took over management with the hope that all things would improve. The markets came back strongly, even as the Corona virus continued to disturb the world. By the end of 2021, our portfolio had a 35% gain since inception, net of fees.
The Wetzel Group trades through Morgan Stanley, and their market analysis team had started a more bearish prediction by mid-year 2021, meaning they felt a market downturn was on the horizon. Eventually, they were right and now we have seen the stock markets have the worst first half since 1970, over 50 years. With the portfolio dropping by 14%, year to date through the end of May 2022, we had to talk about what that meant for our grant approvals.
The Daniels Foundation board has been through market down turns before and the commentary stays consistent. When the economy is tanking, and everything costs more, and the portfolio values are dropping, we need to be the "consistent givers", perhaps even the "increased grant approvers". These non-profits need our help more than ever, so we stay the course and continue to fund their benevolent work, knowing the market will come back as it always does. The Foundation was incorporated in 1949 and over the last 73 years, the funds have increased well above the occasional and normal market drops. We know the good days outnumber the bad and those who focus on the long-term goals are rewarded.
We have a strong team looking after the legacy funds and we keep the faith. This has served us well over these 73 years. We have been willing to give additional aid to those in desperate need in a time when others are tightening their belts. What a blessing it is to be a lifeline when times are tough. This truly speaks to our investor fortitude and our core values as a family. The markets will continue to misbehave periodically, so we hold on for the ride and know that everything will be alright.
Clarence White Daniels
Clarence White Daniels was born in Worcester, Massachusetts on May 12, 1884, and died on January 8, 1966. He was the first of three sons born to Sarah Lydia White and Fred Harris Daniels. He grew up with his two brothers, Dwight and Harold, on Salisbury Street, just North of Montvale Road. Many years later, the property was given to the Nature Conservancy. His early education was in the Worcester Public Schools, followed by four years at Worcester Academy. He matriculated to Worcester Polytechnic Institute, and went on to Columbia School of Mines, graduating with a Master's Degree in Metallurgical Engineering in 1910.
In that year he married Janet Wellman in Cleveland, Ohio. Shortly thereafter, he and his bride moved to Great Falls, Montana, where he was employed as foreman in the smelting department of Anaconda Copper Company until 1913. In Great Falls, he lived several blocks away from the home and studio of Charlie M. Russell. This world-renowned artist had a wonderful gift for portraying the old west on canvas and bronze sculptures. Why he never purchased any of Russell's artwork is unknown. Later, he acquired a Remington watercolor which was used for a story in "Harper's magazine." We inherited it and eventually donated it to the Cowboy Hall of Fame in Oklahoma City.
While living in Montana, two children were born, Norman in 1911, and Jeanne in 1912. Not much information is available regarding his activities in Montana; but it seems likely that he developed his life-long interest in the west while living in Great Falls. Upon receiving word that the smelter was going to close, Clarence decided to move his young family back to Worcester in 1913. Upon arriving home, he went to work for the Norton Company, a firm that his father helped to fund in 1885.
In 1915, Clarence was promoted to Plant Engineer. Under his direction, the company built four mills for machine manufacture, two abrasive plants, a storage facility for raw materials, a power plant, and a private railroad siding to expedite the movement of raw materials shipped in by rail. The plant's engineering committee, of which he was chairman, approved every construction request over $100 until the mid-1950's, when the minimum was raised to $1,000.
Clarence was appointed to the Norton Company Board of Directors in 1925. He retired from the position of Plant Engineer on May 31, 1949. The day before he retired, he gave his successor a commemorative coin from the Boer Wars which he had carried for good luck during his term of employment. He continued on the Board of Directors until 1964, at which time he was presented with a sterling silver tray inscribed with the forty-six signatures of his fellow Directors. During his 51 years at Norton, he helped it to grow from a small family firm to the modern multi-national corporation it is today. At the time of his retirement, he was fully responsible for more than two million square feet of plant space in Worcester, plus twelve careers by any standard.
While living at 5 Montvale Road, 3 more children were born: Myron, who died in infancy, Clarence Jr., who was born in 1919, and Priscilla, who was born in 1923. Norman who was born in Montana, died from appendicitis in 1916; Priscilla died in a tragic hospital accident in 1950; and Clarence Jr. died in February 1987.
Putting his engineering skills to good use, Clarence built two homes in Worcester; his stately stuccoed home at 9 Metcalf Street, and a home for his widowed mother, Sarah, at 15 Rutland Terrace, within easy walking distance to each other.
Having a life-long interest in horses, he purchased Stoney Farm, which was named for its typical New England soil. This farm is located in nearby Holden, Massachusetts. He often went to horse shows, where he frequently participated in parent and child classes with his daughter, Jeanne. The large collection of trophies in the Tack Room attested to their equestrian skills. Clarence enjoyed fox and drag hunting, earning his buttons and colors with Groton Hunt Club. The family used the farm for stabling horses, raising hay, table vegetables and fruit. In effect, Clarence was a gentleman farmer, enjoying many tax-deductible expenses come April 15. Many memorable family outings were held at the farm.
Clarence and his family liked to travel. As early as 1930, they visited the Lazy K Bar Ranch in Big Timber, Montana. This working "dude ranch" offered guests a complete western experience, featuring cattle drives, and overnight pack trips. British Columbia, Paradise Valley, Arizona, Deep Well Ranch in Palm Springs, California, and Yosemite National Park, also in California, were visited over the years. A highlight of one summer was a First-Class trip to Europe, crossing the Atlantic on the Queen Mary. In his retirement, a month-long winter trip to the Breakers in Palm Beach, Florida provided a respite from the cold and snow of New England. There was always a summer trip to the Oyster Harbors Club on Cape Cod. There, he achieved the dream of his long involvement with the game of golf: A Hole In One!!
His home at 9 Metcalf Street was beautifully landscaped in a formal English style garden. On a site of over 1 acre, there was plenty of room for the grandchildren to play. One of Clarence's prize possessions was a row of mature Quince trees which he spent hours watering and tending.
In the fall, the Quince fruit was converted into mouthwatering jelly. A highlight of his later years was to invite his children and grandchildren over for Sunday dinner. Much wonder was expressed about how Della was able to serve the formal meal with perfect timing. Eventually, we discovered that he had installed a foot activated buzzer. In later years, an elevator was added, providing an amusement ride. However, it was clear that the visit was over at 4:00pm, when he listened to the Johnny Dollar Radio Show; or perhaps took a nap, after having so many young ones around. Clarence and his wife Janet were very generous with gifts to the grandchildren at Christmas and on birthdays.
Originally, he wanted to raise live Peacocks on the property. However, neighborhood complaints about the noise stopped this plan. Instead, he had a sculptor create two large cement Peacocks for the garden. The models for this project were residents of the Central Park Zoo in New York. However, there was a family of wild Pheasants who lived under two large Hemlock trees at the top of the property. His favorite pair of Springer Spaniels were named Cash and Carry, because he paid cash at the pet store and carried them home. Gardens, a part-time laundress, an on-call driver for his wife, and a long-term live-in cook/housekeeper kept 9 Metcalf Street in perfect order.
Clarence donated his time to many civic organizations. He made a major contribution to the Masons, being a past member of Morning Star Lodge of Massachusetts (Scottish and York Rights); the Worcester Lodge of Perfection, (Goddard Council); Princes of Jerusalem; Lawrence Chapter of Rose Croix; and a 32nd Degree Mason. He was a member of the Aleppo Temple Shrine of Boston, (Hiram Council); and Worcester Commandery #5. A lot of time was spent memorizing ancient rituals! A wonder how many of these organizations are still active today?
He was a trustee of the Shepard Knapp School. In 1949, he was elected to the Board of the Memorial Hospital in Worcester where he served on the Buildings and Grounds Committee, the Insurance Committee, and as Trustee Representative to the Executive Committee of the Medical Staff. He was active in the Central Congregational church, and a member of the Worcester Club, Worcester Country Club, Tatnuck Country Club, and the Oyster Harbors Club.
Clarence W. Daniels was a generous man, giving both his time and financial support, often anonymously. Upon his death, the Memorial Hospital passed a Resolution of Appreciation for his years of service. The resolution praised him as a quiet, dedicated man who went about his work without any pretense. He never sought personal recognition, but only put his best effort into doing the job at hand as well as possible.
Clarence lived a full life, combining children, grandchildren, travel, community service, and a career spanning 50 years at the Norton Company.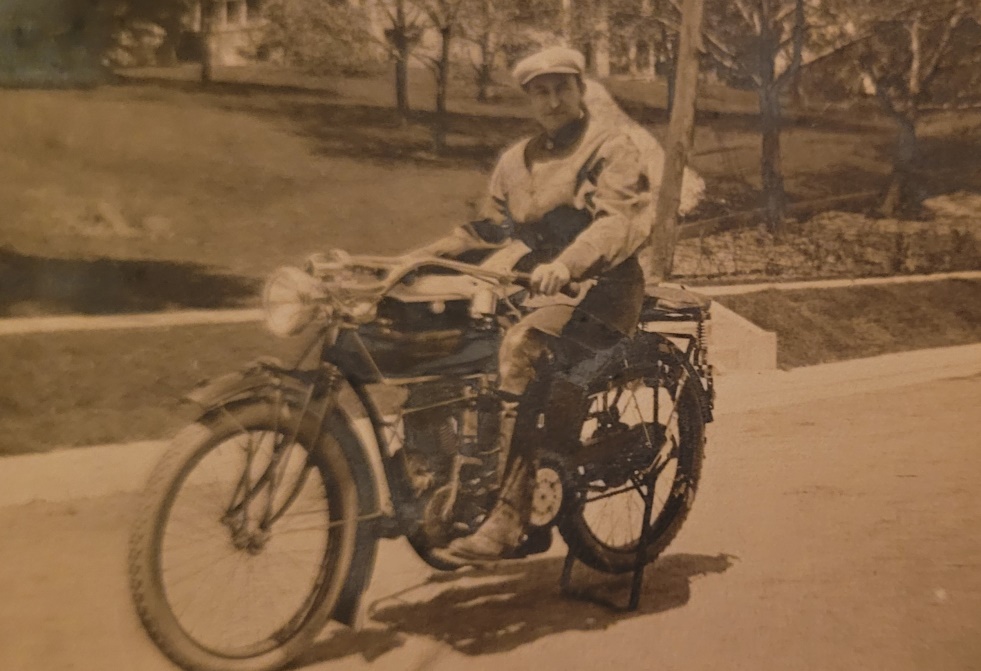 Written by:
Jeanne Daniels Hopkins
Steve, John and Larry Hopkins
April 21, 1989
Family Photos
One of the goals of the Communications Committee is to encourage connection among the extended members of the Daniels family. Our quarterly newsletters are part of this outreach, including not only updates on Foundation activities and gifting, but articles on and by members of the family. This committee also plans for and "hosts" the family reunion every five years, the next of which will be in the summer of 2024 (mark your calendar!).
We would like to build a portfolio of pictures of the family, both past and present, which will be held in a Dropbox folder for future viewing. We are planning to use themes for different newsletters, and for the September/October newsletter it will be "Summer Recreation, Enjoying the Great Outdoors, Daniels on the Water." To whet your whistle for this undertaking, the committee has each contributed a picture or two for this newsletter. Please note that the theme is wide open, and can be either contemporary or historical. When emailing photos please identify the location, the year (if known), and the names of the people from left to right as it is our intention to caption the photos.
Email your picture to Fred Daniels at [email protected] and he will deposit them into the Dropbox folder. As the photos build, we will provide a link to the file so all can see what has been submitted.
Sarah Morse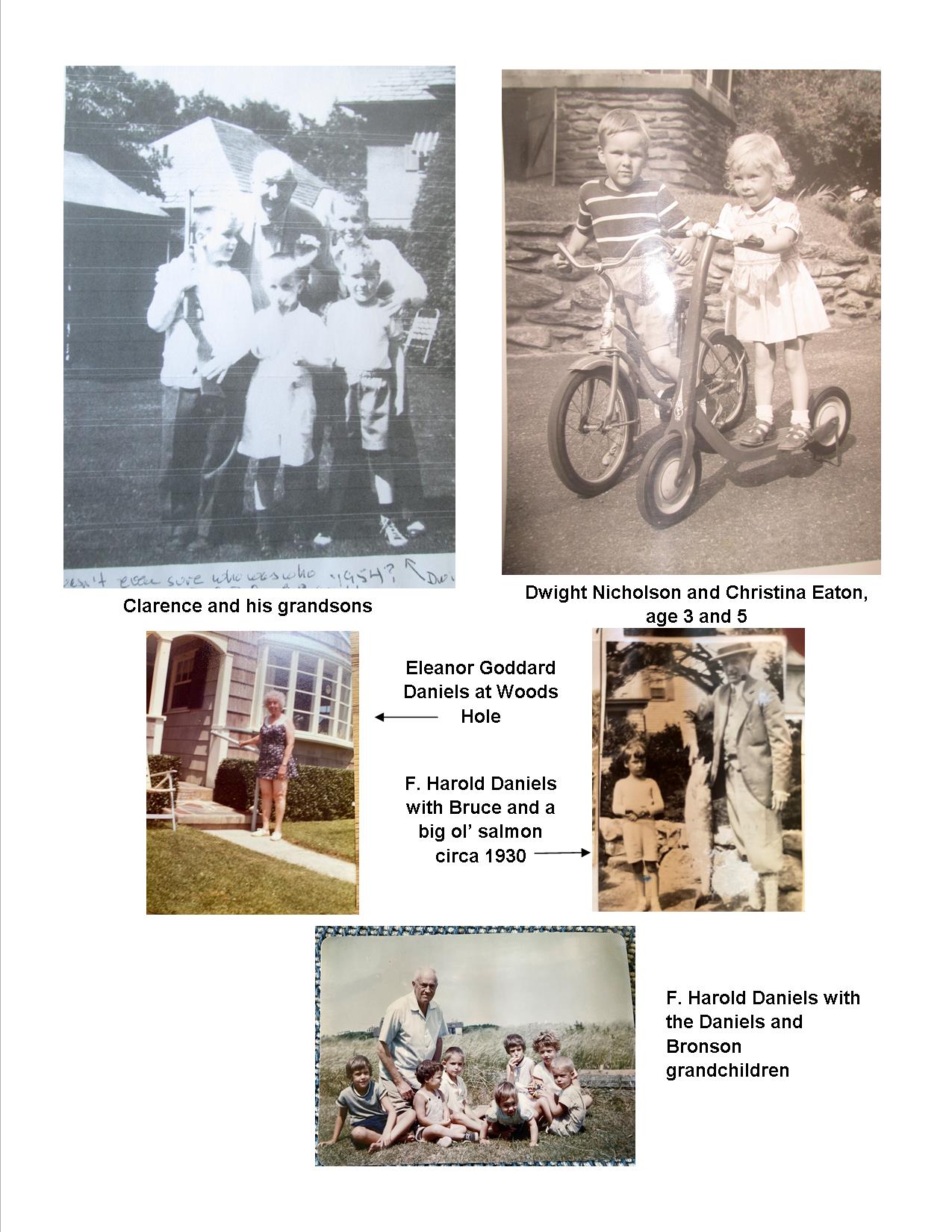 Mental Health Data
As you know, the Daniels Foundation has been working with girls, age 10-14, for the past 15 years.  We have provided well over $2M in funding for this strategic initiative since we began.
Approximately 7 years ago we began a commitment to make decisions based on data, and Dr. Karyn Martin (who owns a consultancy called Right Data Right Now) joined the IIGA consultant's team.  We negotiated and secured access to the Youth Behavior Risk Survey data, which is annually administered to the Worcester Schools and most other school districts throughout Massachusetts.  In the past few years we requested and received permission to add just a few questions to the Worcester survey, and the most recent question asked whether the girl respondent participated after school with a girl serving agency.  This question allows us to determine whether girls in programs with our IIGA partner agencies are behaving differently from the general population of girls, and we are now receiving data which can be broken out.
Our partners tell us that mental health is a major problem for girls, especially since the pandemic forced an environment of isolation and stress.  The Foundation Board members recently received some preliminary data from the first survey's which included the "girl serving agency" question, and the results are below.
The recent survey included data about sadness and suicidal ideation.  Of critical interest in the table below are the columns for 2019, 2021 and 2021/GSO (Girl Serving Organization):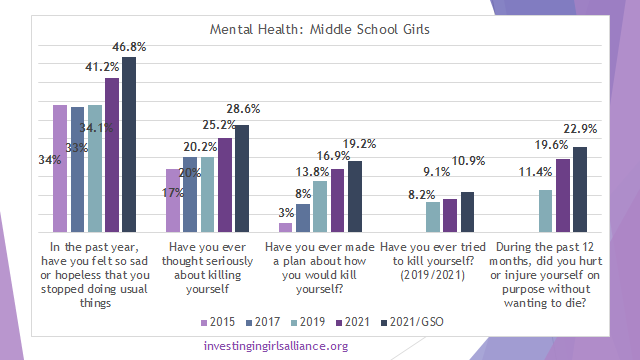 You can see the rapid acceleration of sadness and self-harm that began with the 2021 pandemic data (there were no surveys administered in 2020).  What's astonishing is that, compared to the broader girl population, the GSO girls are demonstrating more negative mental health in 2021 versus the general population in that same year.  Perhaps the GSO girl has been trained to better identify this issue, and it is true that most agencies have been working hard on mental health awareness for many years and thus, the reporting is higher.  Or perhaps there are other explanations which might be discerned via future questions.  Even so, it is absolutely clear that grants aimed at mental health are of critical importance to our girls.  Just as the 2021 and 2022 Strategic Grant program is focused on mental health awareness and training for staff, it is likely the 2023 Strategic Grant award will continue that focus.
The second question of interest looked at girls' future expectations: thinking about the future, planning for the future, and anticipation of attending college.  Here is the data: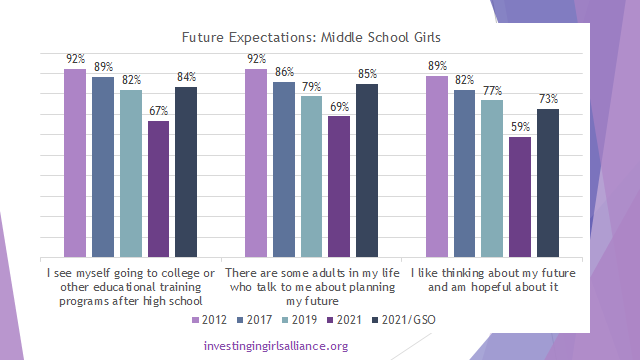 You can clearly see the negative trend overall, with a dramatic decline in the pandemic year 2021.  However, you can also see that GSO girls have a dramatically higher expectation for their future.  So, in this instance our agency partners are clearly making a positive impact on the girls they serve.
Our goals regarding data driven grant making are to focus our grants where they can make the largest impact, but also to provide data to the agencies so they might improve their programs and make a stronger case for funding from other foundations, individuals and corporations.  We are able to see statistically significant impacts that our grants are making, and that is very satisfying indeed.