22 May

June 2018 Newsletter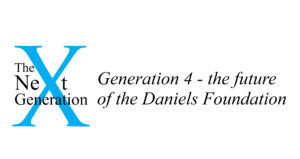 F. Harold Daniels – A Man on the Move!
In 1887 Fred Harris Daniels was promoted to become the assistant general superintendent of all the plants in the Washburn and Moen system. That same year he was tasked to design and build a new mid western plant in Waukegan Illinois, a plant to have the total capacity of 800 tons a day of wire products and a total cost of $2,000,000 (2.9 billion dollars, 2017).* The plant opened six months after ground breaking in 1891. FHD was away for much of that time.
September 9th 1887 is the birth date of Fred Harold Daniels. Born in Worcester, graduating from Worcester Academy in 1905, F. Harold Daniels, probably was "smartest" of the three Daniels brothers, if academic credentials are to be the judge.
Not only did Harold graduate from Sheffield Scientific School of Yale University in 1909 with a Ph.B in mechanical engineering but in 1911 he graduated with a BS degree in electrical engineering from MIT.
In 1913 Fred Harris Daniels passed away, and F Harold Daniels begins his working career at Riley Stocker Company that year. Riley Stocker Company manufactured automatic machines that feed coal into a the burner area of boilers, eliminating the need to have a person shovel coal into the burners.
In the 1970s WO Pettit Jr. recalled that Harold Daniels sold all of his personal stock holdings early in 1929 to gather enough capital to buy up all of the stock in Riley Stocker so that he could control the company. October 19, 1929 saw the great stock market crash of 1929, known as Black Monday. Harold was always a bit proud of being "out of the market" that particular time.
Harold Daniels married Eleanor G. Goddard, June 2nd 1915. "Nell" was the daughter of Harry W. Goddard, a Worcester businessman, also in the wire business. They would have two children, Eleanor, who was born November 16,1917 and as of this writing is still alive on Cape Cod, being the last of the G2. And Bruce who was born in 1925, and would be the long time second President of the foundation, succeeding his father.
F. Harold Daniels, would settle in at 190 Salisbury St. Worcester, which was originally Harry Goddard's house. Harold would oversee, with his wife's input, additions and changes over the years, including the building of the "nuclear bomb shelter" in the basement.
The foundation from time to time still has meetings in the Goddard Daniels House, gifted to the American Antiquarian Society as specified by Harold Daniels so that the lovely house, trees and grounds could be enjoyed for generations to come.
Harold formed the Fred Harris Daniels Foundation in 1949, being the President and his two brothers, Clarence and Dwight, members of the board.
Next issue: the youngest brother, Dwight Clark Daniels.
*using economy cost valuation: a project is measured using the relative share of the project as a percent of the output of the economy. This measure indicates opportunity cost in terms of the total output of the economy. The viewpoint is the importance of the item to society as a whole, and the measure is the most inclusive. This measure uses the share of GDP.)
High Impact Philanthropy
I'll bet you didn't know that your Aunties and Uncles are on the cutting edge of philanthropy! The Daniels Foundation's efforts with girls, age 10-14, is dancing along the edge of what's known as High Impact Philanthropy, which is so hot that the University of Pennsylvania's Wharton School has developed The Center for High Impact Philanthropy (CHIP), the only university-based center with a singular focus on philanthropy for social impact.
What is High Impact Philanthropy?
High Impact Philanthropy is Characterized by the Following:
1. A focus first on achieving social impact – i.e., a meaningful improvement in the lives of others (vs. other concerns such as maximizing the funder's tax benefit or honoring a funder's loved one)
2. Leveraging the best available evidence in identifying problems and developing solutions
3. Linking considerations of cost and impact to understand where the best 'bang for buck' lies
4. Continuous learning to refine and improve so that you make a greater and greater difference
In our own somewhat rudimentary way this is what we've been doing with the girls initiative in Worcester for a decade now. When we committed to this project we believed that in a "small" community like Worcester our foundation might just be able to move the needle. And so we've been focusing on achieving social impact with our girls (#1 above), and that's always been the goal.
After we executed a series of one-off grant projects, we decided that we needed to know more. For the past 6 years we've been chasing data, and we used our own needs assessment data to provide foci for our grantmaking – to affect girl safety, sexual behaviors, and empowerment. Right now we are on the cusp of underwriting data collection every year through the Worcester Public Schools, using the Youth Behaviors Risk Survey, an instrument developed by the FEDs and the State of Massachusetts. This will give us middle school data, including data every other year on many questions which we devised and they agreed to insert, with data in the alternate year coming from the high school aged girls. This will allow us to leverage the best available evidence in identifying problems and developing solutions (#2, above).
We've always been good at linking cost and impact, and with data driven grant making we can not only focus on the greatest needs but use our funder leverage to ensure that agencies are working together, pooling their resources without overlap, identifying added funding sources, and getting the best bang for our buck (#3, above).
And, everything we've done has always included learning and refining (#4, above). The lessons were hard at first, and now the lessons are both instructive and hard, but we continue to learn.
My vision, of which I am slowly trying to convince the full Daniels Foundation Board, is that with this data driven approach and the knowledge learned the hard way, we can replicate the Investing in Girls Alliance model in other communities throughout Massachusetts, with local funders carrying the local load. Eventually when enough communities buy in we will be able to have conversations with the national players – Girls, Inc, Girl Scouts, and YWCA. And then, we'll be making some real impact.
Really, all the good folks at U Penn Wharton had to do was ask…. we would've helped 'em out!
Jon Blake
With lengthy tenure and travel comes a lengthy article. This is everything you need to know about Jonathan Blake current board member and Treasurer of the Daniels Foundation.
Jon joined the board about 35 years ago. The second generation comprised most of the board at that time. The board gifted around $400,000 to Worcester Academy, Worcester Art Museum, Worcester Tech, Tower Hill, YMCA, and YWCA and did limited funding in the social area. While that focus has shifted over time, so has the relationship with one of our frequently funded non-profits. At the time, Bancroft School was "black listed" because there was a big push for a merger between Worcester Academy and Bancroft which never happened because Bancroft refused. The Daniels Foundation funded Worcester Academy for years to keep them going and stopped funding Bancroft for years. Bancroft is back in good graces with the board and now there is major funding for social programs.
Jon has seen the Daniels Foundation grow and evolve under the leadership of Fred and Meridith to become much more involved with current social issues. Board members are more active than in the past and the desire for change continues in a big way. While there has been great progress, Jon say it never feels like enough and he is concerned about the future. Only a few of the current members have ever lived in Worcester and most will be stepping down in the next few years. Jon has concerns about Worcester roots being lost as the generations turn over, as has happened with other Worcester Foundations when the connection no longer existed. The significant value and impact of the Daniels Foundation still exists in this great city with a great need.
For his business career, Jon started in the oil business managing 40 gas stations including Mobile, BP, and Extra. He transitioned to the VP of Sales and Marketing for Parker Manufacturing, a Worcester based company that manufactures hand tools, where he also hired David Nicholson. Stanley Bostich took over and Jon became the VP of Sales and Marketing for the Parker products worldwide.
27 years ago Jon went on his own, starting J.D.Blake and Associates, a company focused on getting small companies together with Sears buyers. He also continued with Stanley for a time handling new product development. During his career Jon introduced to market several new products and innovations: First Plastic staple gun, electric staple, duo position riveter, hydraulic hand-held riveter (which went to the moon), shark tooth sabre blade, Duzzit handy hanger, E Z fix home repair kit, ratchet wrench spinners and many others.
A couple of years after, Jon parted from Stanley. He started doing infomercials and setting up manufacturing in Asia for small companies who then sold their product through his organization. Jon had always dreamed of starting a manufacturing company, so he created the first virtual manufacturing company: Endeavor Tool Co and the Gator Grip. Later he hired David again and eventually sold Endeavor to continue with J. D. Blake until 2008 when he retired.
Jon is an avid traveler and has been to every continent on business or pleasure: England, Scotland, France, Germany, Italy, Easter Island, Galapagos Islands, Vietnam, China, Taiwan, Australia, Manibia's Skeleton Coast, Turkey, Greece, Thailand, Switzerland, and many others. This year he went to the Honduras Island of Roatan and to India. On those occasions where Jon is staying "local" he can be found on Cape Cod or Palm Coast, FL most likely on his boat Sundance. While he was once an avid sail boat racer, racing in Nantucket Sound and other ocean races for 50 years, he has retired from sailing to trawler life. Susan and Jon, who will have been married 25 years this Sept, have logged over 12,000 miles on Sundance.
Jon is blessed with two wonderful and intelligent daughters. Barre Hardy lives in Hamburg, Germany with her husband David and two sons, Blake and Cade and Lindsay Reardon is living in Darien, CT with her husband Scott and son Scott and daughter Riley. Jon and Susan are looking forward to seeing the entire family this summer as well as sneaking in a trip to Russia and Germany for their milestone anniversary in September.
Jon is the middle child with two brothers; F.T. Blake III (Tim) is the eldest and Dwight Clark Blake (Raider) is the youngest and a current board member. Mary Daniels Blake, who is Tim, Jon, and Raider's mother is the daughter of Dwight Daniels, one of the three brothers. Grandfather Dwight had two daughters Mary and Sally Daniels Pettit. Sally is the mother of Bill Pettit and Sarah Pettit Daignault, both board members.
Jon has served on a few other organizations: Bancroft School, Worcester Historical Society, Nichols College, Grafton Forest Association, Town of Harwich Architecture Committee, and Stone Horse Yacht Club.
Jon's passions for pastimes revolve around water. Besides boating (boat maintenance) and travel, Jon also enjoys building sailing ship models and says his only problem is finding time to do it all!
A "Small" Grant With a "Big" Impact. . .
Imagine being unemployed and unable to travel to job interviews because you don't own a car.  Imagine further, having a sick child needing medical attention without the funds to use public transportation.
At the March meeting, the board of the Daniels Foundation voted to award $3,000 to Tasks for Transit (TFT), a program that provides Worcester Regional Transit Authority passes to the economically disadvantaged of greater Worcester.  All passes are dispensed through the TFT network of 21 full time charity partners.  Individuals who are successful securing a job may also quality to receive ten passes to travel to their job prior to receiving their first paycheck.
As TFT stated in their request for funding, "this very small item, the day pass, can have a life-changing effect on the life of an economically disadvantaged person."
Daniels Foundation approved this grant as it exactly fits our mission of "supporting sustainable, creative solutions to help people become more self-reliant in their lives and communities."
Worcester Art Museum Makes the Boston Globe
For many years the Daniels Foundation has funded the Worcester Art Museum, which was founded in 1896. And now WAM is in the news, claiming to own a Leonardo da Vinci. The Renaissance panel painting along with "The Annunciation" from the Musee du Louvre are on exhibit until June 3rd. This controversial painting, "A Miracle of Saint Donatus of Arezzo", was purchased in 1933 and donated to WAM in 1940 by Theodore and Mary Ellis.
They purchased it as a da Vinci piece, but 44 years ago an English curator said, "No, It is by Lorenzo di Credi." This was believed to be true until a curator from Yale said, "I believe that is by da Vinci. Now with infrared photo technology Rita Albertson, the present curator at WAM has determined that both Leonardo da Vinci and Lorenzo di Credi worked on the piece together. This was often done in the 1400's when workshops were producing as much work as possible. This Renaissance panel is one of da Vinci's early works and certainly does not compared to the Mona Lisa, which was one of his last works.
However, since only about 15 paintings have survived that are attributed to da Vinci, it is remarkable that the Worcester Art Museum owns one at all. Just a year ago, da Vinci's "Salvator Mundi" sold for $450.3 million in N.Y. at Christie's.
Leonardo da Vinci is truly one of the greatest painters of all times along with other attributions: being the father of paleontology, iconology, and architecture. He was a master of both medicine and art at the age of 20. He invented the parachute, helicopter and tank. He truly was a Renaissance genius, that's for sure.
Along with this noteworthy piece the Worcester Art Museum has a 38,000 piece collection which covers 5 centuries, and they recently acquired the John Woodman Higgins Armory collection of arms and armor. WAM was one of the 1st art museums to collect photography and to focus on collaborating with local schools. They have also been in the forefront of engaging audiences and giving them a meaningful and personal experience. So the Daniels Foundation should be quite proud to have played such a key role in supporting such an amazing museum.